#001 Daikon-radish Steak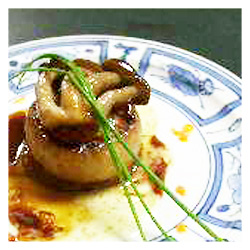 【Ingredients (Four servings)】
1 daikon radish (slender)
1 pack shimeji mushrooms
1/2 potato
10g butter
Chopped chives (small amount)
Sauce
60cc stock made from konbu kelp
40cc sake
20cc soy sauce
【Preparations】
Wash daikon radish. Peel it to make a cylindrical shape and cut it into 4cm slices. Heat them in plenty of water in which rice has been rinsed. Simmer the daikon slices till a skewer penetrates them, and let them stand in fresh water for a while. Peel potato, cut it in 3mm slices, and allow it to stand in cold water.
Remove the bottom parts of the shimeji mushrooms. In konbu-kelp stock (see below) seasoned like the stock used in light Japanese soup, simmer drained daikon and shimeji mushrooms till well flavored.
Combine sauce ingredients in a saucepan, bring to a boil, and allow to stand.
Heat oil in a heated frying pan. Drain daikon radish. Sauté it in hot oil until browned. Add sliced potato and shimeji mushrooms, and dress with sauce from step 3.
Remove daikon, potato, and shimeji mushrooms to a serving dish and dot with butter. Finally, pour sauce over the ingredients and sprinkle with chopped chives.
【Caution】
※Overcooking at step 4 results in excessively strong flavor.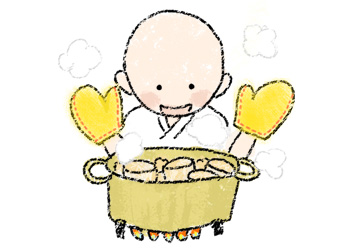 #002 Soy-milk Hot Pot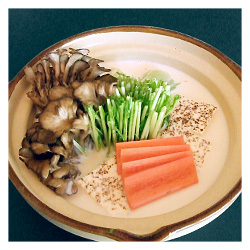 【Ingredients (Four servings)】
1/4 of a head of Chinese cabbage
2 bunches potherb mustard
200gm maitake mushrooms
1 block toasted tofu (or plain tofu)
Soy-milk Broth
180cc stock made with konbu kelp
180cc stock made with dried shiitake mushrooms
180cc unflavored soy milk
1 Tbsp. white miso
1 Tbsp. light soy sauce
【Preparations】
Bring plenty of water to a boil in a large pot. Dip Chinese cabbage into boiling water. Remove and chill in cold water.
Cut cooled Chinese cabbage into even strips.
Peel carrot and slice into thin oblong shapes. Break maitake mushrooms into large pieces. Wrap toasted tofu in cloth and let stand to extract moisture.
Wash potherb mustard thoroughly and cut into 3cm lengths.
Combine180cc konbu-kelp stock (see below) and 180cc shiitake-mushroom stock (see below) in a pot.
Add light soy sauce and white miso and mix well. Add soy milk.
Cut moisture-reduced toasted tofu into bite-size blocks. Add to the broth pot together with vegetables.
Gently bring contents of pot almost to the boil.
Just before the boiling point is reached, add cut potherb mustard. Enjoy the tofu and vegetables together with the soy-milk broth.
【Simple Shiitake-mushroom Stock】
Allow 4 or 5 cleaned dried shiitake mushrooms to stand in 2 liters of water overnight.
Bring water and shiitake mushrooms almost to the boil. Remove pot from heat and remove shiitake mushrooms. Reserve them for other uses. (They are delicious seasoned with soy sauce and sugar.)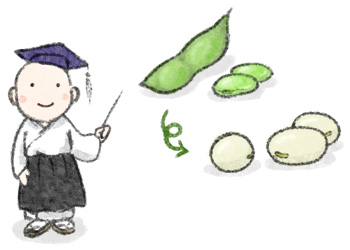 #003 Konbu-kelp Stock
【Ingredients】
10g konbu kelp
500ml water
【Preparations】
Warm dried konbu kelp in a slow oven. Combine kelp with water in a pot and heat for about 30 minutes.
Remove konbu kelp and use the broth in cooking.
Heat water and konbu kelp at about 60 degrees C. (Small bubbles will form on the kelp.)
Heating for more than 30 minutes results in a full-flavored stock.
If you have time, for further richness of flavor, submerge the kelp in the water the day before the stock is needed.
Heating for about 30 minutes results in from 350 to 400ml of stock.
【Caution】
※Do not boil konbu-kelp stock as overcooking destroys its flavors, or umami.