manga jizo
The Manga Jizo Bodhisattva Statue—Bonds of Creativity!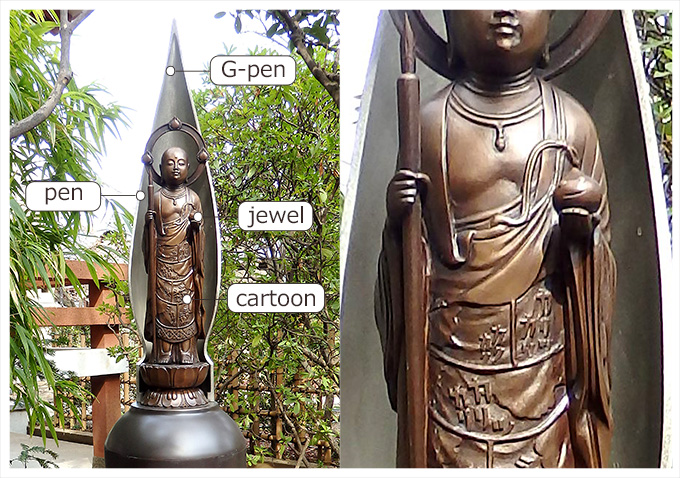 A statue of the bodhisattva Jizo (Ksitigarbha) dedicated to Japanese manga or cartoons and called the Manga Jizo has been erected on the grounds of the 500-year-old temple Kongo-in. It is located 30 seconds' walk from Shiina-machi, the terminal station near the location of the lodging house called

Tokiwaso*

, where many manga artists once lived.
Called

the birthplace of manga

, Shiina-machi is a place where workers in all sorts of creative fields formed a network starting with individual points, joining in lines, and covering whole areas—from the circumference to circle. The statue of Manga Jizo symbolizes them and their relationships.

The statue of the Manga Jizo is turned toward the place where

Tokiwaso

stood.
The aureole behind the bodhisattva is in the shape of a

G-pen

nib.
The patterns on the bodhisattva's robes are onomatopoetic words found on

cartoon paper and in cartoon bubbles

.
In one hand, Jizo holds a staff, called a shakujo symbolizing his wisdom. The shakujo of the Manga Jizo is in the shape of a

pen

.
In the other he holds the Fruit of Wisdom, or

the Wish-fulfilling Jewel

(Nyoi Hoju).
Faintly smiling and turning his face to the right, he regards the surroundings with profound caring.
He imparts the blessing of creative power.
*Tokiwaso
The wooden lodging house Tokiwaso (1952–1982) was home to many such famous Japanese manga artists as Osamu Tezuka, Fujio Fujiko, Shotaro Ishimori, and Fujio Akatsuka.
manga jizo movie