About the Kongo-in Temple
The history of the Kongo-in temple dates back about five centuries to a time when devout believers living along the shores of Yabata River that once flowed through the northern part of Tokyo erected a statue of the bodhisattva Jizo as a sign of faith and built a small hall as a place for faithful prayers.
During the Edo period (1603-1868), in addition to its religious roles, the temple served as a school, a humble playhouse, a hospital, and a court for the peaceful resolution of conflicts. Continuing in this tradition, tradition, the Kongo-in today continues to be a central element of its region by accommodating four functions: praying, learning, enjoying, and healing.
Throughout the Edo period, the Kongo-in administered the Nagasaki-jinja shrine on an adjacent site. In this way until the present time, it has evolved a history indicative of the benign Japanese religious view apparent in what is called Shinto-Buddhism syncretism.
The Edo (current Tokyo) region suffered repeated earthquakes and fires between 1781 and 1789. In recognition of the aid it afforded victims of these disasters, the Kongo-in was allowed to erect at its entrance a gateway painted vermillion. This is remarkable because, at the time, the shogunal government permitted the building of vermillion-painted gates only to relatives of the Tokugawa shoguns themselves. Built in 1780, the Kongo-in vermillion main gate is unusual as an example of what is called a yakui-mon, a gate supported on four posts—two main ones in the front and two secondary ones behind. The Kongo-in gate is a designated cultural property of Toshima Ward, Tokyo.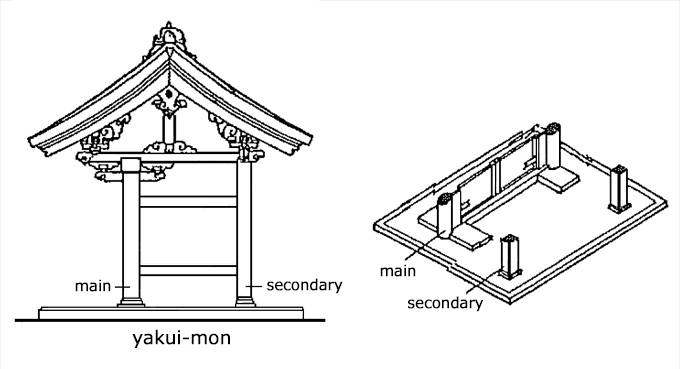 The temple Main Hall and Reception Hall, which make use of valuable materials and structural methods, are National Registered Cultural Properties as modern architecture of historical significance.
Access to the Kongo-in Temple
30 seconds' walk from Seibu Ikebukuro Line Shiina-machi Station [Access map]